Special Rods
We manufacture the special cemented tungsten carbide rods needed for your application.
In addition to developing unique tungsten carbide grades, we have the expertise and manufacturing competence to create customer-specific cemented carbide rods.
We can accommodate your special requests regarding length; diameter; or number, shape, and position of the cooling holes.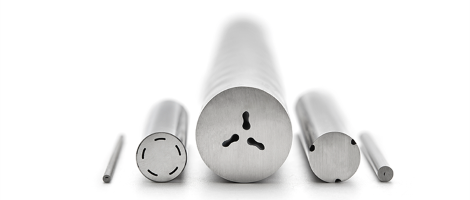 Versatile

custom

-made cemented carbide

products
Customized length

Customized diameter tolerance

Shape, number, and position of the cooling holes

Variability of helix (0 - 65°) especially for blanks with short pitches of 6 to 7 mm and shorter for micro drills

Kidney-shaped or lenticular-shaped cooling channels in blanks for deep hole drills

Reduced pitch tolerances (classification possible) for blanks up to 550 mm for helical cooling channels

Lengths up to 550 mm for rods with helical coolant channels and 900 mm for rods with parallel cooling channels or solid rods

Rod diameters from 3.0 to 34 mm for rods with a length of 330 mm and diameters up to 55 mm for rods with a length of up to 200 mm with straight cooling channels

Coolant hole diameter minimums from 0.08 mm and maximums of ½ of the rod diameter

Right-hand or left-hand helical twists

Helical twist pitches of up to 72° possible

Lateral exit holes > 0.3 mm and in forward or backward orientation

Lateral exit holes with diameters, angles, and locations to meet your needs.
Please fill out the form below to speak to a product expert about how we can produce the special product you need.